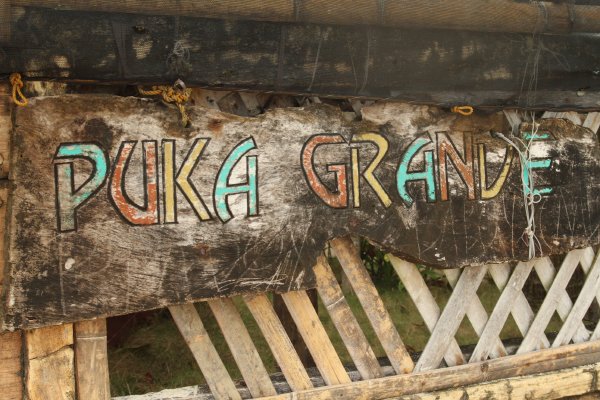 Last day in paradise. Time to get away from the tourist resort. Having been on the scooter yesterday, we discovered other parts of the island to explore. So we decided to do our last big meal at a tiny beach at the end of the island.
A twenty minute ride on a sidecar type motorcyle, we arrive at our destination - Puka Grande. Really. That is hopefully the given name, and not the name everyone calls the place after eating.
What a great menu and meal. Nothing elegant - plastic tables, plastic garden chairs. Six tables host a couple of nationalities, but everything is an island pace.
There are some great offers, but more than anything everything is a third of the price in the resort area. So I go for the works: White marlin steak, steamed shrimp and rice. Debbie opts for the never-can-fail roasted chicken.
While we wait for our order, a small craft is beached, the tradesman starts to hand carry his catch to a cooler and within minutes people gather and take home bags full of fresh fish.
What a meal. Debbie decides that a couple strands of pearls would be a good buy and after a quick haggle, she is the proud owner of beautiful accessories. We hit the beach for two hours - walking as far as the sand will take us until rocks provide a barrier on the beach.
Five hours later and Puka Grande is just what it should be - a good memory and not driving the porcelain Buick.