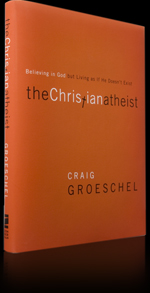 A pastor once asked his church to pray that God would shut down a neighborhood bar. The whole church gathered for an evening prayer meeting, pleading with God to rid the neighborhood of the evils of this bar. A few weeks later, lightning struck the bar and it burned to the ground.Having heard about the church's prayer crusade, the bar owner promptly sued the church. When the court date finally arrived, the bar owner passionately argued that God struck his bar with lightning because of the church members' prayers. The pastor backtracked, brushing off the accusations. He admitted the church prayed, but he also affirmed that no one in his congregation really expected anything to happen.The judge leaned back in his chair, a mix of amusement and perplexity on his face. Finally he spoke: "I can't believe what I'm hearing. Right in front of me is a bar owner who believes in the power of prayer and a pastor who doesn't."
Craig Groeschel, the Christian atheist, pg.75
I have just finished weeping for the lost, for my heart, for our ministry - three hours. And it was an ugly cry.
During that time I came to realize something about my soul - I would rather give money to see people come to Christ (Debbie and I are giving a few thousand for a project right now) and it does not cause my heart much turmoil. I would rather work long hours at just about any kind of task. But when it comes to praying - it is simpy too emotionally turbulent. My soul would rather avoid it at all costs. So that is what I do, I avoid it. That is what I found out about myself today.
And here is the ugly truth - that is part of the reason that I don't pray with that kind of intensity very often. And I feel so guilty and ashamed, that I don't even like to admit it. But it is true.
But Hannah cried and prayed ... and God gave her a prophet son.
But Jesus cried and prayed ...  and God was honored and our ransom was paid.
But Paul prayed ... and his world was changed.
Maybe, just maybe, God will do it again.