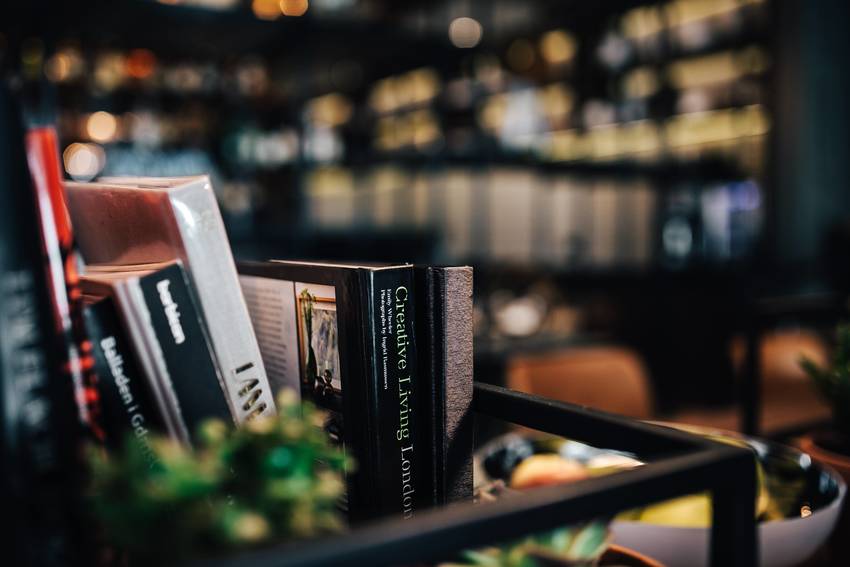 Photocredit: Stock Photo
I have my book list for 2018 planned. There are a number of topics that have captured my interests and come highly recommended. Over the next three blog posts I'll list all 24 titles. Yes, it is a pretty eclectic list. So is my brain.
No particular order other than alphabetical. Grab a volume with the Amazon link.
Option B
by Sheryl Sandberg
Description:
After the sudden death of her husband, Sheryl Sandberg felt certain that she and her children would never feel pure joy again. "I was in 'the void,'" she writes, "a vast emptiness that fills your heart and lungs and restricts your ability to think or even breathe." Her friend Adam Grant, a psychologist at Wharton, told her there are concrete steps people can take to recover and rebound from life-shattering experiences. We are not born with a fixed amount of resilience. It is a muscle that everyone can build.
Option B combines Sheryl's personal insights with Adam's eye-opening research on finding strength in the face of adversity. Beginning with the gut-wrenching moment when she finds her husband, Dave Goldberg, collapsed on a gym floor, Sheryl opens up her heart—and her journal—to describe the acute grief and isolation she felt in the wake of his death. But Option B goes beyond Sheryl's loss to explore how a broad range of people have overcome hardships including illness, job loss, sexual assault, natural disasters, and the violence of war. Their stories reveal the capacity of the human spirit to persevere . . . and to rediscover joy.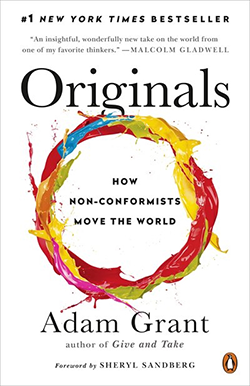 Originals - How non-conformists move the world
by Adam Grant
Description:
Using surprising studies and stories spanning business, politics, sports, and entertainment, Grant explores how to recognize a good idea, speak up without getting silenced, build a coalition of allies, choose the right time to act, and manage fear and doubt; how parents and teachers can nurture originality in children; and how leaders can build cultures that welcome dissent. Learn from an entrepreneur who pitches his start-ups by highlighting the reasons not to invest, a woman at Apple who challenged Steve Jobs from three levels below, an analyst who overturned the rule of secrecy at the CIA, a billionaire financial wizard who fires employees for failing to criticize him, and a TV executive who didn't even work in comedy but saved Seinfeld from the cutting-room floor. The payoff is a set of groundbreaking insights about rejecting conformity and improving the status quo.
Pause
by Rachael O'Meara
Description:
Sometimes life throws you for a loop. You're stressed out at your job; you're torn between work and family; your motivation and productivity are taking a nosedive. Your impulse might be to lean in and tough it out, but what you may really need to do is take a step back. Reassess your life with a clear head and dive back in with purpose and poise. In this enlightening book, Rachael O'Meara guides you through the steps of your own pause journey:
- The signs that you're in need of a meaningful break
- Planning your optimal pause—whether it's as short as a day or as long as an epic journey
- Reentering the world with renewed clarity and purpose.
Perennial Seller
by Ryan Holiday
Description:
Bestselling author and marketer Ryan Holiday calls such works and artists perennial sellers. How do they endure and thrive while most books, movies, songs, video games, and pieces of art disappear quickly after initial success? How can we create and market creative works that achieve longevity?
Holiday explores this mystery by drawing on his extensive experience working with businesses and creators such as Google, American Apparel, and the author John Grisham, as well as his interviews with the minds behind some of the greatest perennial sellers of our time.
Radical Candor
by Kim Scott
Description:
From the time we learn to speak, we're told that if you don't have anything nice to say, don't say anything at all. When you become a manager, it's your job to say it--and your obligation.
Author Kim Scott was an executive at Google and then at Apple, where she worked with a team to develop a class on how to be a good boss. She has earned growing fame in recent years with her vital new approach to effective management, Radical Candor.
Radical Candor is a simple idea: to be a good boss, you have to Care Personally at the same time that you Challenge Directly.
Solve for Happy
by Mo Gawdat
Description:
In Solve for Happy Mo questions some of the most fundamental aspects of our existence, shares the underlying reasons for suffering, and plots out a step-by-step process for achieving lifelong happiness and enduring contentment. He shows us how to view life through a clear lens, teaching us how to dispel the illusions that cloud our thinking; overcome the brain's blind spots; and embrace five ultimate truths.

No matter what obstacles we face, what burdens we bear, what trials we've experienced, we can all be content with our present situation and optimistic about the future.
Super Structure
by James Scott Bell
Description:
Super Structure represents over two decades of research on what makes a novel or screenplay entertaining, commercial, original, and irresistible. Contrary to what some may think, structure is not a nasty inhibitor of creativity. Quite the opposite. Properly understood and utilized, structure is what translates story into a form readers are wired to receive it.
And it is only when readers truly connect with your story that they turn from casual readers into fans.
The material in this book greatly expands upon the chapter on structure in Write Your Novel From the Middle. Super Structure can be considered a companion to that book, but it also stands alone in its treatment of the elements of a solid and pleasing plot.
The All-or-Nothing Marriage
by Eli J. Finkel
Description:

Eli J. Finkel's insightful and ground-breaking investigation of marriage clearly shows that the best marriages today are better than the best marriages of earlier eras. Indeed, they are the best marriages the world has ever known. He presents his findings here for the first time in this lucid, inspiring guide to modern marital bliss.
The All-or-Nothing Marriage reverse engineers fulfilling marriages—from the "traditional" to the utterly nontraditional—and shows how any marriage can be better.
DISCLAIMER: This post and description contains affiliate links, which means that if you click on one of the product links, I'll receive a small commission, but will not cost the buyer any more than directly through Amazon. This helps support this ministry. Thank you for the support!