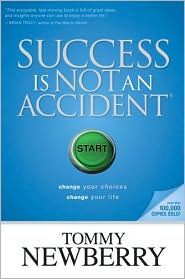 Tommy Newberry's self-published book: Success is not an Accident might be of the genre where you would think - I don't want any quick humanistic quips to be a "success". At least that is how the title appeared to me as I was introduced to the volume.
But when you stop and think about it, who really sets out in life to be a failure? Anybody ever shoot for that intentionally? Really?
I tend to believe otherwise. If no one starts out aiming for a life of regret, maybe I should be more intentional about the way I do life. Not for the sake of being an outward success, but for the sake of pleasing Christ - for whom I was made. So maybe my perspective needs tweeking - maybe I should be more intentional about life, in order to prevent failure. Who wants to be a train wreck?
Mr. Newberry has biblical counsel about doing life. Great thoughts on altering perspectives are helpful. Here is a sample:
Imagine trying to throw darts at a dartboard in a room with no lights on. Even in the dark, you would eventually hit the board, and if you continued for long enough, you would probably hit the bull's-eye. But if you turned on the lights, gathered a large supply of darts, got some coaching, and invested ample time in practicing, you would significantly reduce the time it would take to hit the dartboard. When you finally hit the bull's-eye, many people would call you lucky. But you wouldn't be lucky. You would just have been willing to do more things to ensure that you hit the bull's-eye.
And another:
High achievers are motivated by pleasurable outcomes. Underachievers are motivated by pleasurable methods.
Ouch. But at least he calls the issue by name.
Enjoyable reading and challenging thoughts. Thanks, Mr. Newberry.