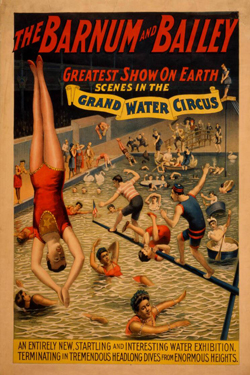 In the year 1875 businessmen convinced the showman P.T. Barnum to lend his name and one of the most famous travelling circus' was born. Ultimately Barnum would merge with Bailey, then later merge with the Ringling Brothers circus and the result was a brand that captured market share. Gross receipts would ultimately top 500 million dollars annually.
The greatest show on earth was so profitable that Mattel bought it in 1971 in a hostile takeover. Mattel paid 50 million dollars.
Then electronics were invented:  Playstations. Then Las Vegas hit its stride.
The costs of paying their star talent, the care and feeding of aging animals, travel costs in an oil shortage economy all impacted the bottom line - hard. Negatively.
Ticket sales dropped over the next decade and Mattel would sell their ownership in 1983 back to the original owners, Feld Entertainment, for less than half of what they had originally paid.
So here is the question: Is this the business climate to start any new circus?
In 1984 a group of street performers thought so. Canadian businessmen banded together and in the next 20 years would achieve a level of revenues that took Ringling Brothers & Barnum & Bailey over 100 years to attain. Cirque de Soleil was born.
And all of that in a declining industry.
How? In the business volume: Blue Ocean Strategy, the authors observe:
"Cirque de Soleil did not compete with Ringling Bros. and Barnum & Bailey. Instead it created uncontested new market space that made the competition irrelevant. It appealed to a whole new group of customers: adults and corporate clients prepared to pay a price several times as great as traditional circuses for an unprecedented entertainment experience."
Four questions guide the business practice and create a new value curve:
Which of the factors that the industry takes for granted should be eliminated?
Which factors should be reduced well below the industry's standard?
Which factors should be raised well above the industry's standard?
Which factors should be created that the industry has never offered?
Church-planters, we should sit up and take notice. When environments change, we do not quit, nor resign. We adapt. Those that do, flourish.